CO-CURRICULAR Programs
Involvement in co-curricular activities develops confidence, creativity and leadership skills in our students. The belonging and relationships that come from these activities strengthen students' sense of self, engagement, social agility and resilience in the face of difficulty, challenge or adversity.
At St Mary's College, we provide rich and varied opportunities for students to explore and develop their passions; opportunities such as: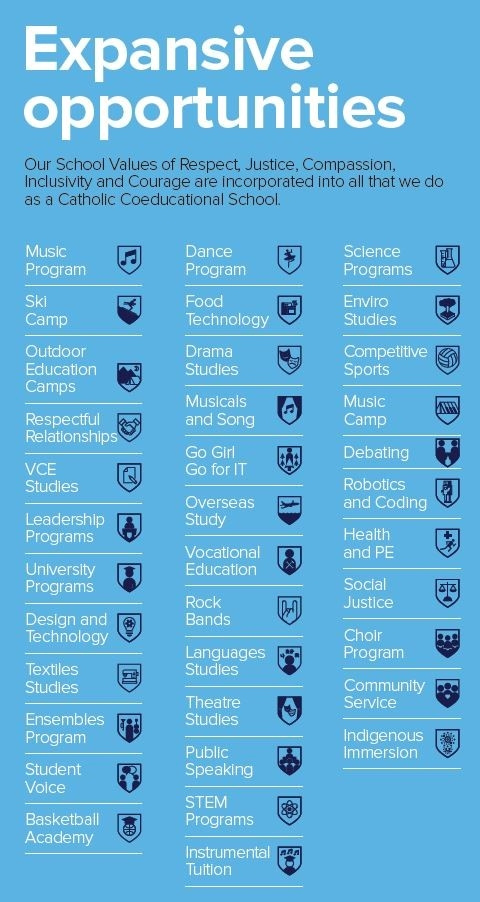 MUSIC AND PERFORMING ARTS PROGRAMS
When walking through our school any given lunchtime, the sounds of guitars, drums, piano and singing voices fill the air. The music curriculum at St Mary's College is rich and vibrant, allowing for the personal and creative expression of our students.
Every Year 7 student learns an instrument of their choice in the classroom as part of our Concert Band Program. Each student is also issued their very own instrument for the year and receives tuition on woodwind, strings and brass. In addition to this, instrumental instructors are also available to teach guitar, drums, piano and singing. For many students in this program, this is the first time they have picked up an instrument.
Most of our students continue to play or sing all the way through their time at the College with many joining the various ensembles. Student Rock Bands are encouraged and formed in the Rock Band Program. All of these ensembles play at College and community events including the Caulfield RSL Dawn Service and the Combined Christmas Carols.
The annual College Musical is one of the great highlights of the year for our community. Over the years we have seen 'The Little Shop of Horrors', 'Grease', 'Bugsy Malone' and many more. In addition, our Music students also attend our Music camp where students have an opportunity to work intensively with professional musicians and tutors.
Additional opportunities include:
Private instrumental tuition for guitar, drums, piano, brass, strings and woodwind
Vocal Ensemble with free private tuition available
VCE Music and Theatre Studies
Student bands and rock groups
Students involved and engaged in music have the opportunity to participate in:
Annual concerts
Annual music camp
Annual musical production
Associated Catholic Colleges Music events
For more information about our music programs, please email us.
‍
SPORT
Sport is an integral part of community life here at St Mary's College. Participation in all sports and activities is encouraged at all year levels. We believe that sport teaches us so much more than winning or losing, but gives us opportunities for personal development; team work; boosting motivation; developing self-confidence and independence as well as representing the College.
St Mary's College is currently a member of two sporting associations: ACC (Associated Catholic Colleges) and SCSA (Secondary Catholic Schools Association). Each association provides a variety of sporting competitions including weekly sport, carnivals and one-off competitions.
‍
OUTDOOR EDUCATION
St Mary's College has an extensive in-house Outdoor Education Program. Students from Years 7 to 9 participate in specially-designed programs each year, while older students can opt to engage with new environments and adventures through curriculum subjects or extra-curricular events. Year 7 students attend a four-day camp at Anglesea and Year 8 students head to the Avon Wilderness in Gippsland. Year 9 students embark on a whitewater rafting expedition down the Mitchell River. Year 10 students can complete a VET Certificate II in Outdoor Recreation, contributing to their VCE studies. Otherwise students can participate in events through the year such as our annual Ski Trip, St Mary's College Family Camp or the Great Victorian Bike Ride - all of which are open to all students.
Each year, our students walk, cycle, paddle and ski thousands of kilometres and visit hundreds of special places such as mountains, beaches, rivers and National Parks. Students have a chance to live and share time with each other, build relationships, work together, be active and healthy, and connect to nature and the natural Indigenous history of our landscape.
Highlights include:
Year 7 – Four day surf camp, natural environment exploration at Westerfolds Park, white water rafting on the Yarra River.
Year 8 – Three day camp through sub-alpine region of Avon Mount Hendrick Scenic Reserve, orienteering and mountain biking through the Kurrajong Mountain Bike Trails of the You Yangs National Park.
Year 9 – Four day journey down the remote and spectacular Mitchell River in Gippsland including white water rafting.
Year 10 and beyond – Like all learning areas, older students can choose to focus their outdoor learning. A Physical Education course, specialising in Outdoor Education, offers students more opportunities to engage in more outdoor activities and experience more environments. Senior students can also elect to undertake further studies with the option to complete a VET Certificate II in Outdoor Education, which explores working in the outdoor recreation field, and includes a number of great employment and travel options, from working in Ski Resorts through to Adventure and Travel Guiding. This program develops practical outdoor skills alongside valuable workplace skills and knowledge.
Extra-Curricular Options - In addition to the core curriculum all St Mary's College students have additional options to recreate outdoors including an annual Great Victorian Bike Ride and a Mount Buller Ski Trip.
For more information about our Outdoor Education programs, please send us an email.