OUR HERITAGE
St Mary's College is a co-educational secondary school – an authentically inclusive school where girls and boys learn together, side by side.
The school, formerly an all-boys school known as CBC St Kilda, was reimagined in 2020 to incorporate its renewed vision and purpose of sustaining quality Catholic secondary education in the precinct.
The decision to become co-educational was prompted by the announced closure of our sister school Presentation College Windsor.
The two schools and their stories are interwoven. Connected by an overpass, they have worked closely together for many decades, sharing classes, musicals, immersions and community events. Their charisms are also connected through Presentation Sisters and Edmund Rice Education Australia.
St Mary's College will continue to preserve and promote the prophetic response of Nano Nagle and Blessed Edmund Rice to the times and challenges of our contemporary world.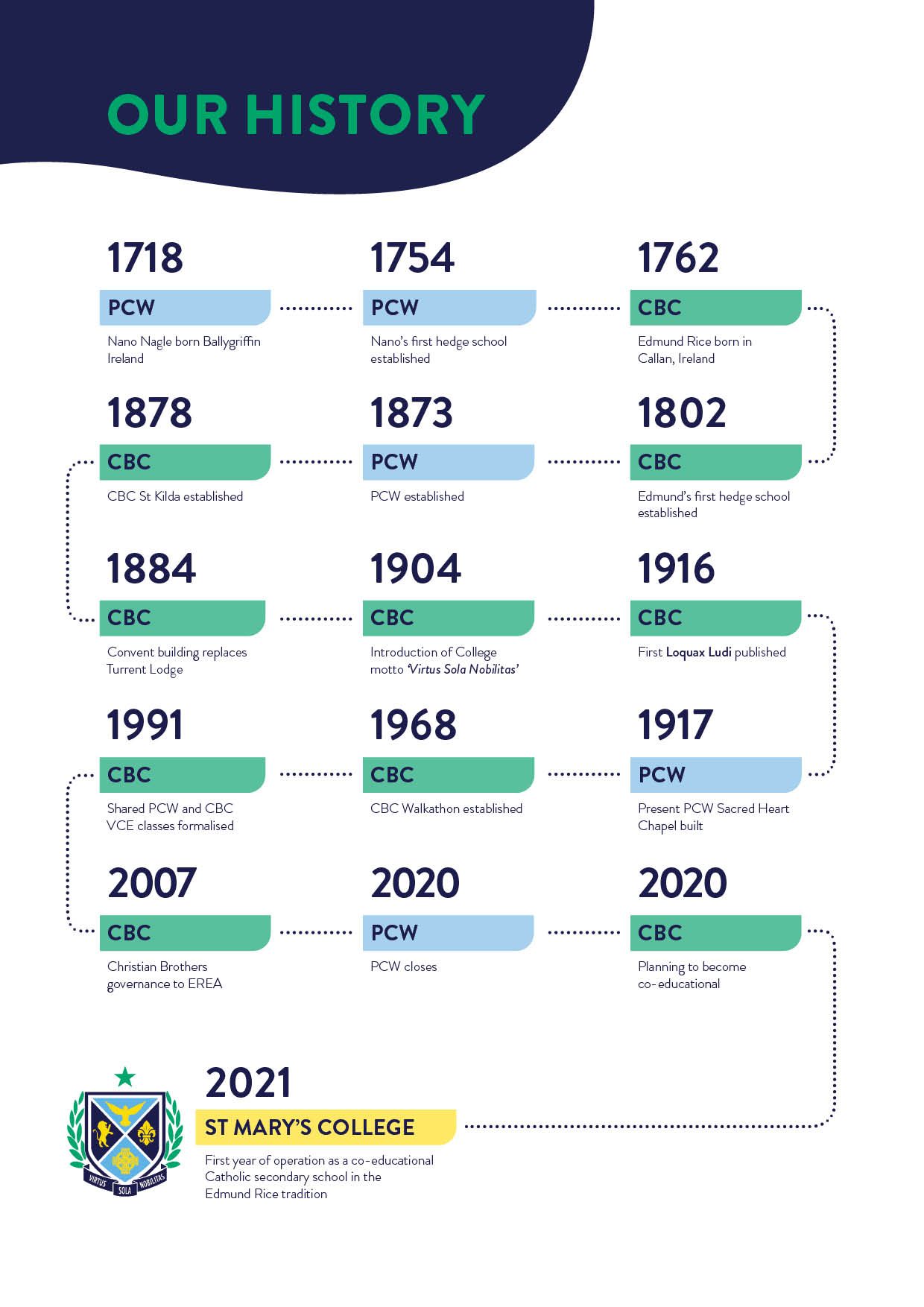 Where it all started:
CHRISTIAN BROTHERS COLLEGE ST KILDA (CBC ST KILDA)
For over 140 years, CBC St Kilda has been a Catholic secondary College for boys in St Kilda East. Established in 1878, its beginnings may be traced back to the efforts and foresight of Dr Corbett, Parish Priest of St Mary's, who was responsible for securing the arrival of the Christian Brothers and Presentation Sisters from Ireland.
These dedicated men and women left their homes in the nineteenth century with little expectation of ever seeing them again, and travelled around the world to St Kilda and Windsor to serve and educate the children of the Irish immigrants they followed.
CBC St Kilda was established to provide an education in the Catholic tradition as an alternative to the state system that was to be phased in after the passing of the Education Act of 1872. After speaking to Brother Ambrose Treacy, who agreed that the Brothers would do well in colonial St Kilda, Dr Corbett wrote to his half-brother John Patrick Corbett - a Christian Brother in Ireland, to secure for him a couple of Brothers for St Mary's Boys School. Brother John Patrick Corbett, the school's first Headmaster, and seven companions left Plymouth on the SS Kent on the 17 May 1878. Since then, the CBC St Kilda has educated thousands of young men to fulfil valuable roles in society.
The Christian Brothers were part of the Congregation formed by Blessed Edmund Rice. Inspired by the work of Nano Nagle who founded the Presentation Sisters, Edmund commenced his mission to provide education for boys living in poverty. His handful of helpers later became the Christian Brothers. This education broke the cycle of poverty and marginalisation. More than 150 years after his passing, Edmund was beatified by Pope John Paul II. His legacy lives on in the work of Christian Brothers around the globe, and through more than 50 Edmund Rice Education Australia schools across the nation including St Mary's College.
PRESENTATION COLLEGE WINDSOR
The Presentation story in Victoria began in 1873, with the establishment of Presentation Convent Windsor. Seven Sisters arrived in Melbourne after a three-month journey by ship, determined to provide Catholic education to young people in the region.
Mother Mary Paul Mulquin led her six Presentation Sisters in work steeped in the tradition of Nano Nagle, providing a holistic education, with great emphasis placed on social justice, together with the well-being of the individual and the nurturing of community. This collaboration with parents, students and teachers in a lively educational environment continued until the school's closure at the end of 2020.
Nano (Honora) Nagle, was the founder of the Presentation Sisters, also known as the Sisters of the Presentation of the Blessed Virgin Mary. Nano Nagle was born in 1728, in Ballygriffin, Cork, Ireland. At the time, Catholic education was forbidden, so Nano's parents arranged for her to leave Ireland to be educated in France. Nano lived a privileged life, but it was here that she first became aware that many people lived in poverty.
Nano believed that education was the key to alleviating poverty. She knew that without it society could not change. On her return to Cork, Nano began to open small schools, and in 1775, she founded the Congregation of the Presentation Sisters. In 2013 Nano Nagle was declared Venerable by Pope Francis.
Over the years both the Presentation Sisters and Christian Brothers have made a significant contribution to both Church and nation through their education of generations of young people who, from their schooling in St Kilda East and Windsor, have taken up positions of influence across Australia and internationally.